Category Archives:
Donations
Pastor's Pantry 2017 Holiday Appeal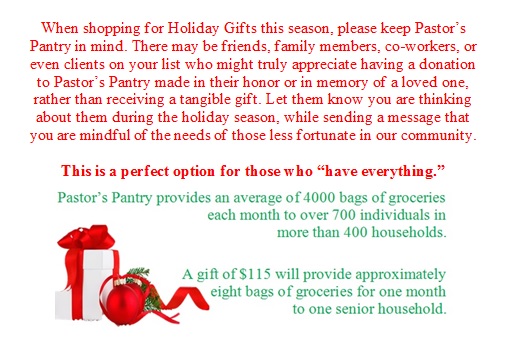 It seems like every week we are thanking someone for something they have done for us! This week we are excited to let you know that our lobby is getting a facelift – UNILIN has donated a new floor, paint and supplies were donated by Sherwin Williams and Ricky and Lisa Everhart, and volunteers have been busy applying a fresh coat of paint!  Here are a few pictures of the work in progress…more to follow!
We have learned that there is a tradition among some Presbyterian churches to celebrate "Souper Bowl Sunday" during the "Super Bowl" football game. On the Monday following Super Bowl, Fairmont Presbyterian Church and Meadowview Presbyterian Church dropped of food (lots of soup!) for the pantry following their respective events on Sunday night. We even found a nice set of keys in one of the bags! Hopefully, those keys have now been returned to their rightful owner. We extend our sincerest thanks to these churches for thinking of Pastor's Pantry in the midst of their festivities!