Who's the pastor? There isn't one!   Not any longer, anyway.
Our nonprofit was founded in 1974 as volunteer crisis intervention organization. Around 2000, the organization decided to transition to a new mission to better meet the community's needs. Since nutrition services for seniors were identified as a great need in Davidson County, the organization decided to start a food pantry. The new organization's first executive director, Beverly Fulbright, was an ordained minister, thus Pastor's Pantry was born.
We decided to keep the name even after Dr. Fulbright left the organization, because we had become well-know by that name in the community.
While we are blessed with the support of many churches and communities of faith, we are not a religious organization. Religion plays no part in our criteria for accepting or serving clients.
What We Do

Pastor's Pantry is a nonprofit food pantry, with no religious affiliation, that targets senior hunger. Our main focus is seniors (age 60-plus) in financial stress in Davidson County, North Carolina. We provide groceries for seniors in need, once per month. We also provide emergency food to individuals of all ages in crisis mode. Most seniors receive 7-8 plastic grocery bags of food each month, which generally lasts about 10 days.  Many of these seniors live with younger relatives in their households, so the number of people we serve is greater than the number of seniors who apply for help.  We distribute an average of 5,000 bags of groceries each month, in addition to emergency food.
Pastor's Pantry currently helps more than 700 individuals on average per month in nearly 500 senior households throughout Davidson County. The food is offered at no cost to the recipient.
Where the Food Comes From
The groceries come from donations from individuals, groups, churches, and organizations who host food drives and collect food for us, as well as from daily salvage contributions from Food Lion and Wal-Mart. The remaining food we need to fulfill requests comes from Second Harvest Food Bank Northwest NC in Winston-Salem. Through a shared maintenance program every dollar more than doubles. We also make monthly food purchase of fresh produce from Lexington grocer Conrad & Hinkle and other sources at the best prices we can find.  Farmers and local gardeners also share their surplus with us, when possible.

We are funded by United Way, churches, local businesses, other groups and organizations, individuals, grants, and fundraising activities.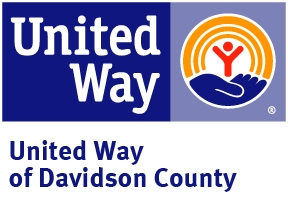 How to Contact Us
Pastor's Pantry is located at 307 North State Street, Lexington, NC.                         
(Mail MUST be sent to our post office box address listed below)                               
Our business hours are 8:00 a.m. – 4:00 p.m. Monday – Thursday.
Mailing Address:  P.O. Box 2051, Lexington, NC 27293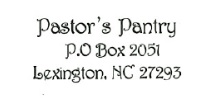 Telephone:  336-249-8824
Donations may be made by mail to our post office box, in person, by phone or electronically on our website.  

*We can accept cash, checks, or credit cards in the office.
MEET OUR TEAM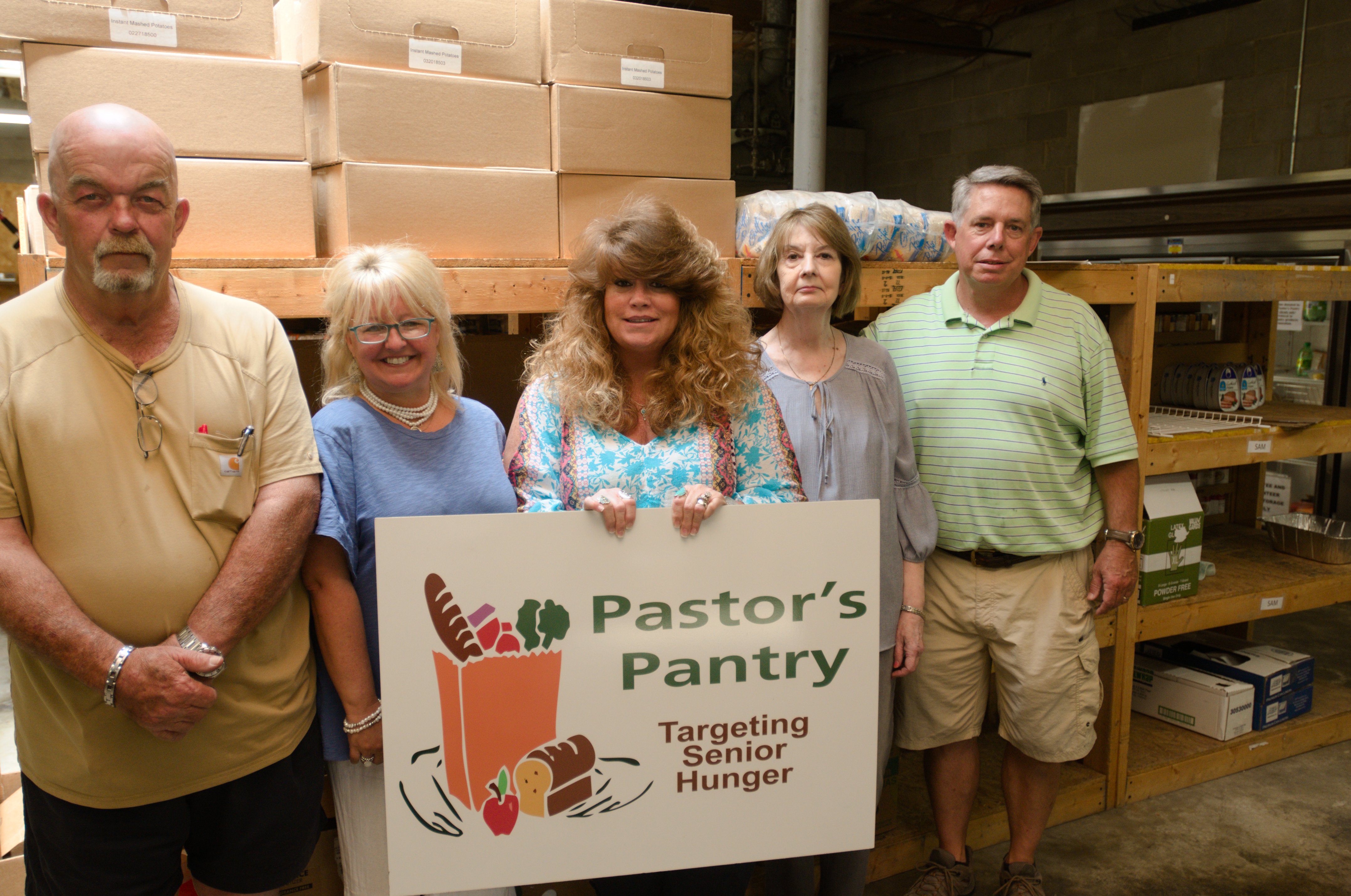 Donna Mashburn, Executive Director
donna.mashburn@pastorspantry.org                Extension 301
Jennifer Davis, Marketing Coordinator
marketing.coordinator@pastorspantry.org    Extension 304
Dr. Lewie Phillips, Assistant Treasurer
assistant.treasurer@pastorspantry.org           Extension 302
Greg Briggs, Pantry Coordinator
pantry.coordinator@pastorspantry.org            Extension 303
Joey Merritt, Pantry Assistant                             Extension 324
Ricky Loflin, Pantry Helper
We are also blessed with a wonderful team of volunteers!
Our Board of Directors:
Dan Briggs, President
Walter Hoffman, Vice President
Mike Turlington, Treasurer
Peggy Boyles, Secretary
Terry Berrier
Chris Call
Belinda Clark
Tommy Everhart
Karen Hall
Mike Hall
Pastors Robert Hill
Carlos Jane`
Carolyn Jones
Laura Lohr
Matthew O'Bryant
Tina Royal
Kristi Thornhill