Category Archives:
How to Help
Be sure to check out the Kentucky Derby hat collection at Black Dog Emporium in Lexington this month! They have a nice selection of hats for women and men, and will donate a percentage of the proceeds from hat sales in April to Pastor's Pantry! Hope to see everyone at our Derby event on May 3rd!
Maintenance Department employees at the Lexington PPG plant are generous, longtime supporters of Pastor's Pantry.
Last week during the startup of a new tank at the plant, Maintenance Department member Tommy Huffman set up his "slushy" machine in a break room and invited PPG employees to make a donation to Pastor's Pantry in exchange for a frozen drink.  The machine offered delicious flavors like orange mango and red Gatorade.
In just three days, the department raised $441, which members presented to Pastor's Pantry executive director Bill Keesler this morning (Wednesday, April 9).  The Pantry can stretch that money to buy more than $5,000 worth of food for hungry clients.
Thank you once again to PPG and its Maintenance Department for being such great friends of Pastor's Pantry!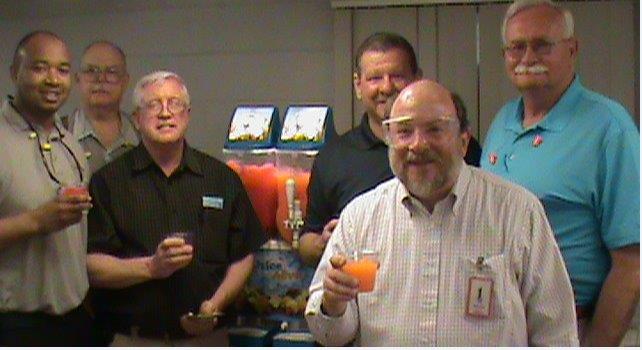 (Pictured Left to Right) PPG's Dalewyn Spinks, Mark Blum, Tommy Huffman, Ronnie Hamilton, and Ray Hackney pose with Pastor's Pantry executive director Bill Keesler beside the "slushy" machine that raised so much money.  Bill really liked the orange mango flavor (and those safety goggles)!